E1341 Original framed watercolour by English artist Fred Forrester...signed, flourished 1930s. "Beached rowing boat with figure". 
E1316 Superb original 1943 watercolour of the Norfolk Broads by J.W.C.Willis...verso label and signed on board
E1287 Vintage  Erte, foil poster for the Mirage Gallery California, 1978. One of tHe 4 Emotions.."Love".
E1289 Vintage Erte Poster...for the Circle Gallery 1978...."Soirée" (study in red/black).
E1284 Complete, Gowan's and Gray booklet, framed. Binding by Jessie M King..1907.
E1286 Vintage poster from the Hunterian Museum... C.R. Mackintosh... 1990.
Original  black and white prints from The Studio, 1902, by Glasgow Girl, Jessie M. King.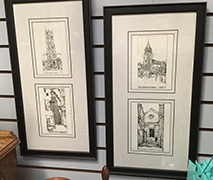 E1548 Pair of double images in each frame of prints from 1906, of Paris, by Jessie M. King.
The Owl and the Pussy cat bookplates
Original  black and white prints by Jessie M King and Annie French
New stock of framed bookplates
A selection of watercolours by Jean Dryden Alexander (1911 -1994)...English artist...member of the Society of Lady Artists. Attended Chelmsford Art School and The Slade. Exhibited at the Royal Academy
A small selection of watercolours by post war artist, David Furniss